This past weekend I enjoyed an amazing trip to Ligonier, Pennsylvania.
The cutest little town this side of Western Pennsylvania with endless shops! We started off in a cute breakfast (Breaky) joint called The Kitchen on Main. Nestled in the newly renovated historic Diamond, the Kitchen on Main has become a staple of the town as well as a destination point for diners near and far. The open kitchen design allows for guests to watch the cooks prepare meals that is inspired by new and old classical cooking techniques. Reservations accepted for dinner only, BYOB and outdoor seating available when weather is permitting.
136 East Main Street
Ligonier, PA 15658
Phone: 724-238-4199
info@thekitchenonmain.com
Linn Run State Park has some fantastic short hikes in their tiny park. The trail we hiked
on was the Flat Rock Trail. This half-mile trail follows Linn Run through the northern reaches of the park and offers a perfect hike for two out-of-shape girls. This flat trail begins at the lower parking area for the Adams Falls Trail. As you travel alongside the creek, you'll see several privately-owned cabins on the opposite of the trail which seem to have the peaceful setting Linn Run offers. I'd love to own one of these cabins one day. I would be the boujee neighbor at 7am cuddled up next to a fire with my coffee and a book. Sounds like a good time, right?
Along the way we stopped to hammock and have lunch! We parked (hung) ourselves in a beautiful spot right next to the creek (crick) behind ruins of what I assume is an old cabin or small hunting lodge. All that remains is the stone walls and the fireplace. This remaining ruble is neat to explore and offers great rustic photo shoots or if you are me, adventurous 🙂 
Style tip: Make sure you have sunglasses and a comfy head band! They are very convenient for hiking!
Lastly, we spent our remining hours in a place fifteen- twenty minutes up the road called Laurel Mountain State Park. We went hiking, took some Instagram worthy photos, and peacefully listened to the sounds of nature. After those twenty minutes, we drove our wonderlust butts to Frank Lloyd Wright's Fallingwater. This is a must-see in the Laurel Highlands. You have to check it off of your bucket list. I have been in Pittsburgh for most of my life and I never saw this beauty till now! THANK the LORDT I did! Breathe taking! I'm planning on going back soon! Probably during the fall to get a picture of the leaves changing colors!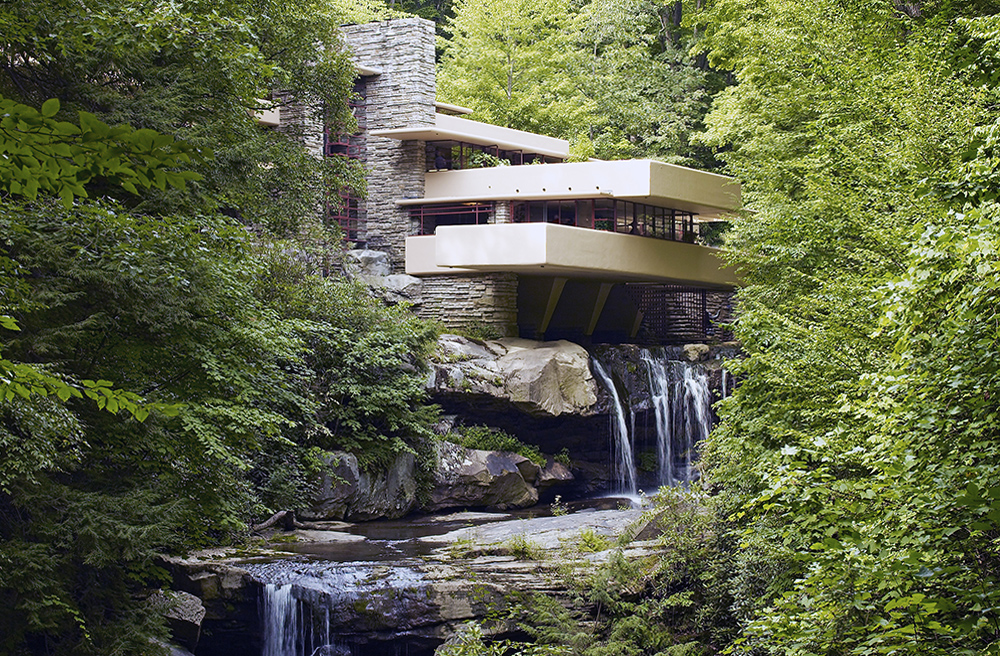 Style tip: Wear leggings with pockets because they are a good investment (almost dropped my phone off a cliff) GOD BLESS!
Lets just say it was a day of adventure, but it was so worth it!!!! 🙂